Today I wanted to share with you a fun little work and play dress I purchased – from Target!
I was very excited about this dress as until now, I've had awful luck with clothing from Target and have never been able to find anything there that fits me – especially from all the various designer collaborations. I didn't even know that there was a new collaboration with the brand The Webster (or for that matter, what The Webster was), but ordered this dress on a whim from online.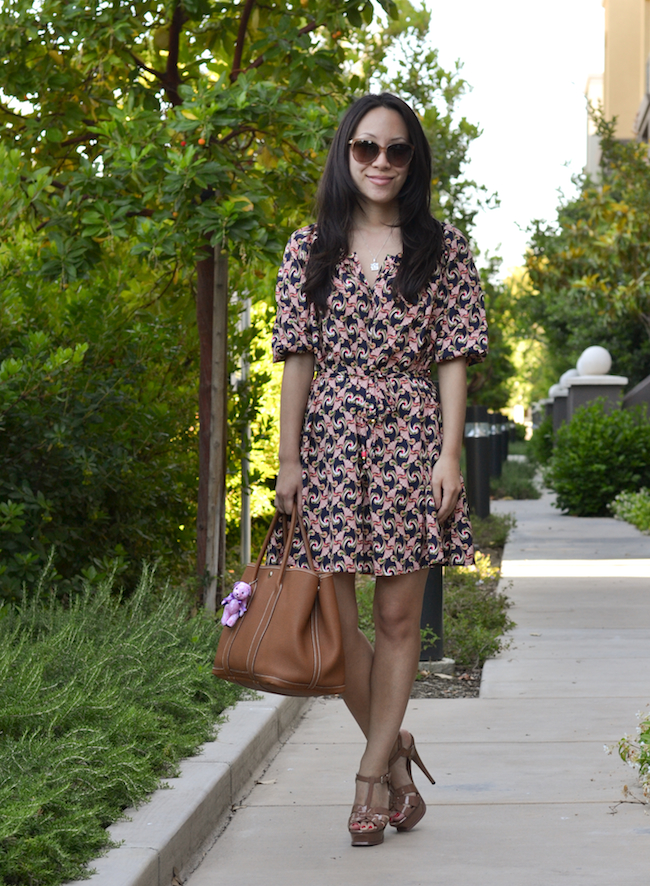 The Webster for Target dress (petite here, plus size here)
Hermes Garden Party (similar splurge, more budget friendly)
YSL Tribute sandals (lookalikes at a lower price)
When I got my package, I was pleasantly surprised – finally, an order where I didn't have to return anything to my local Target store! I dread going to Target because it's like a little pit of doom and I always end up frittering away my money on all kinds of useless items. For example, right now I find myself random halfway to an entire collection of whale shaped kitchenware items…and all thanks to Target. But that's besides the point.
The dress is polyester which is never as nice as silk, but it feels pretty solid and the fabric doesn't have that "cheap" look you get sometimes from synthetics. I love the pattern and also that the collar has buttons so you can adjust the neckline (I prefer a little v-neck). The sleeves also have elastic on the ends so you can push them down or leave them. It's a bit brighter in real life (check the links above to go to the website for pictures).
This dress was around $38 after some codes which isn't crazy cheap, but good enough for an item that can easily go from work to dinner. Plus it's been so hot here these days that another light summer dress couldn't have come soon enough!
Any other clothing items you'd recommend that I should be on the lookout for from Target?