Sale PSA: Nordstrom has new markdowns on some great classic shoes here. My picks are these gorgeous classic boots, and dressy flats that can also be worn casual, for under $100 here. 
Today's interview is with the beautiful and very sweet Dlynn – a woman who you can't help but adore when you meet her. Dlynn is a self described woman "in her 50′s, living in the 20′s", and she is every bit as cool as she sounds, as you will soon discover. She has a fabulous closet, a diverse set of interests, and a gorgeous handbag (and car) collection that focuses on a color that many (including me) are scared of – white! How cool is that? Enjoy meeting Dlynn!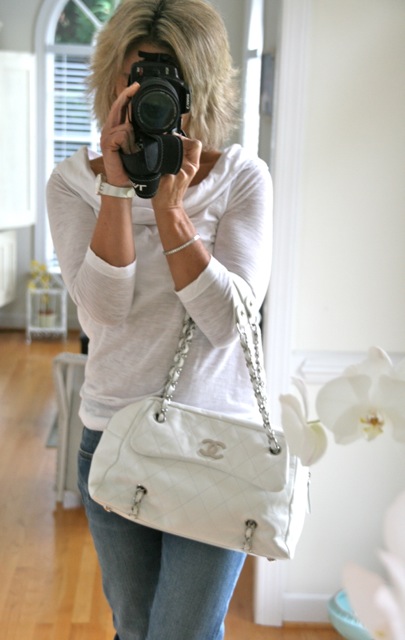 Who are you, and where are you from?
I am Dlynn. I am originally from Richmond, Virginia, but now live in the Williamsburg and Virginia Beach area. It's a great location because you have the city/lifestyle of Richmond, history of Colonial Williamsburg, beauty of the mountains and the fun and relaxing feel of Virginia Beach. After getting married to my husband, who is from Long Island, New York, I had the pleasure of moving and living in New York for six years.
We started our family there and then decided to move back to Virginia to raise our three kids and start my husband's dental practice. Before marriage and kids, I worked as an assistant fashion buyer for a major department store in the city of Richmond. This is where I learned so much about fashion, art, design, photography, marketing and style! I loved this job and really miss this line of work, but my life took me in a different direction.
Can you elaborate more on this different direction? What do you do now? 
What do I do now? I have spent the last few years home-schooling my kids through their high school years. I currently have developed and manage a program called "HELPING HANDS", which teaches high school kids with "special needs" clerical skills with the hopes of having a job after high school graduation. Our middle child was born with a chromosome disorder, and through her disabilities it lead me to discover a great need in our community for a program for special needs kids. Continue reading »