This week has been a busy one for me at work and while I usually try to catch up on reading in my free time, I've become addicted to watching episodes of The Good Wife. Is anybody else watching this? The show has really grown on me and now I'm a huge fan!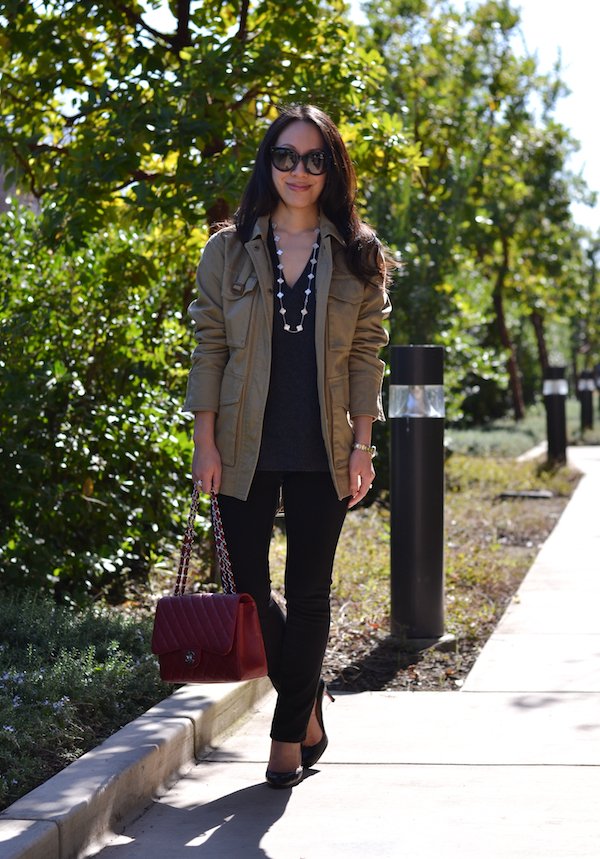 J.Crew parka (LOVE this version, under $150 here)
360 Sweater cashmere sweater
Ann Taylor pants
Van Cleef necklace (similar), Chanel bag
Louboutin heels
I bought this parka more than a year ago and used it mostly to go over summer dresses. Lately though I've been wearing it multiple times a week as topper to stay warm in the winter, and I love that it has big pockets that actually close. Whenever I want to pop out for a quick coffee or errand I can just put my keys and phone and not carry a bag at all! I'm beginning to understand why men wear cargo pants.
By the way – if any of you are looking for some reading material, I would highly recommend Going Clear: Scientology, Hollywood and the Prison of Belief by Lawrence Wright, which I recently finished. A very balanced and fascinating book which I'll probably want to read again soon, there was just so much to absorb. I'd actually recommend all of Lawrence Wright's books, especially if you like non fiction.