I spent all of last week basically knocked out with a very nasty flu. I whittled away the majority of my waking hours wrapped up in a big furry blanket, drinking hot water and regretting my decision not to steal the Snuggie during my office white elephant (I opted for a lifetime membership to a coworker's motorcycle club instead).
The rest of my time I spent slouched over in my chair shopping online, for very warm, snuggle worthy clothing – something I always end up doing while sick during the winter months. It's a very comforting activity! I was enamored with a variety of down jackets and furry boots (especially this very excellent one, which I still might get). I also showed all of my online favorites to my exasperated husband in between demands for congee and chicken pho. "But..we..live..in….CALIFORNIA!" he kept exclaiming.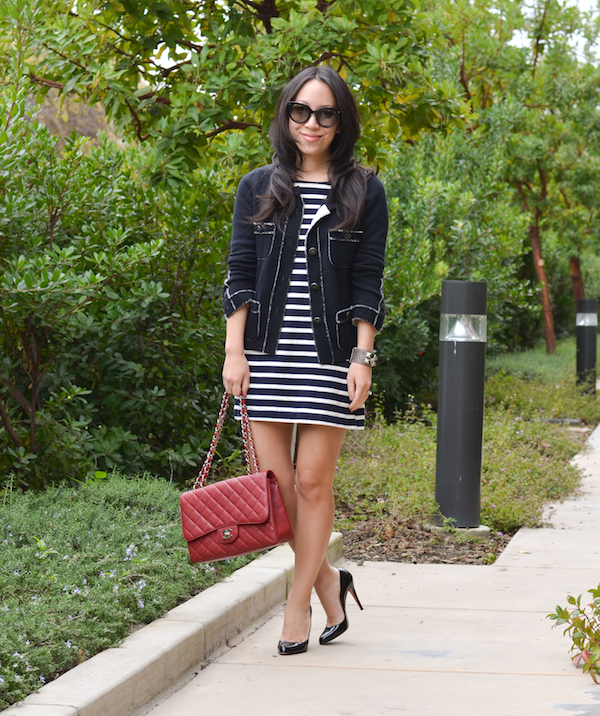 Chanel cardigan (a beautiful version here)
Gap dress (similar here)
Chanel bag (similar here)
Hermes bracelet (similar and so versatile here), Prada sunglasses
Louboutin heels
Anyway, this week I started feeling better, and there were finally some warmer days so I was able to venture out in a dress to work (though the temperatures have gone right back down…brrr). I always wear find it easy to wear my Chanel and Chanel-esque items with stripes, they usually go well and it doesn't look overdone. Try it!
And also please stay healthy everybody..take it from me…this season's flu is a monster!