This weekend I had a nice mini break with my husband – we did a trip to Healdsburg to check it out and to try the restaurant Cyrus before it closes in October. I have a post along for that, but for now this is what I wore on the car ride up – it was hot! You can see that I was in a hurry and was rooting in my bag for something right before this photo was taken. I always leave my Chanel flaps open out of laziness but it probably isn't good for the bags.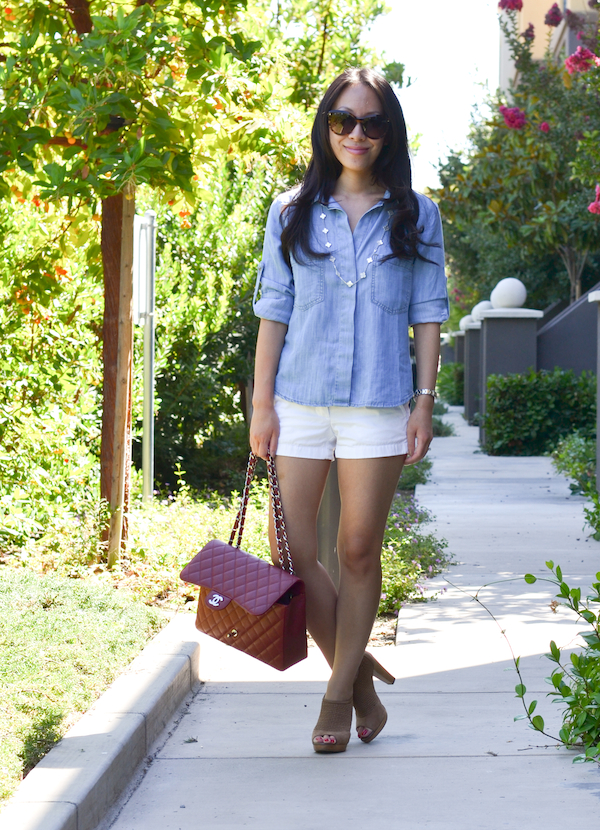 Anthropologie shirt
J.Crew shorts
Van Cleef & Arpels necklace (similar here)
Chanel bag (similar here)
Banana Republic sandals (similar here that I want!)
Last week, out of the blue my stepfather sent me a new digital camera from Sony. He said that he had read about it on Bloomberg and it was exactly the kind of toy he would have wanted as a young man. Isn't that so nice?
Anyway, I'm not very technology-gadget savvy but I had a chance to test out the camera this weekend, a Sony DSC-RX100, and it's awesome. It takes very close to DSLR quality but is the size of a point and shoot. I love it and would have never known about it if not for my stepdad! If any of you love your DSLR but wish you had a smaller option, I would highly recommend this camera. I'll share some photos from the Sony later this week vs. my much larger Nikon DSLR so you can see the difference.
I know quite a few of you are photographers (and much better than me!). What camera are you using right now and what are your thoughts on the Sony?