Happy Wednesday and 4th of July for those celebrating today! Did any of you take some days off this week? I didn't but I notice that the traffic going and leaving work each day is so much lighter. Everybody must be out at the beach having fun.
We're taking it easy this holiday morning and I booked us for a spa day. I'm being extra nice to my husband after I may have tricked him into seeing "Magic Mike" with a misleading description (it's from the director of TRAFFIC!) over the weekend. He doesn't keep up with new movies and thus had no idea what it was about – suspicion began to dawn on him when a) looking around he noticed the audience was 95% female, and b) many of those females began hooting and hollering even before the theater lights dimmed. But considering that I watched the last few releases of the Transformers franchise with him, I consider us even. Right??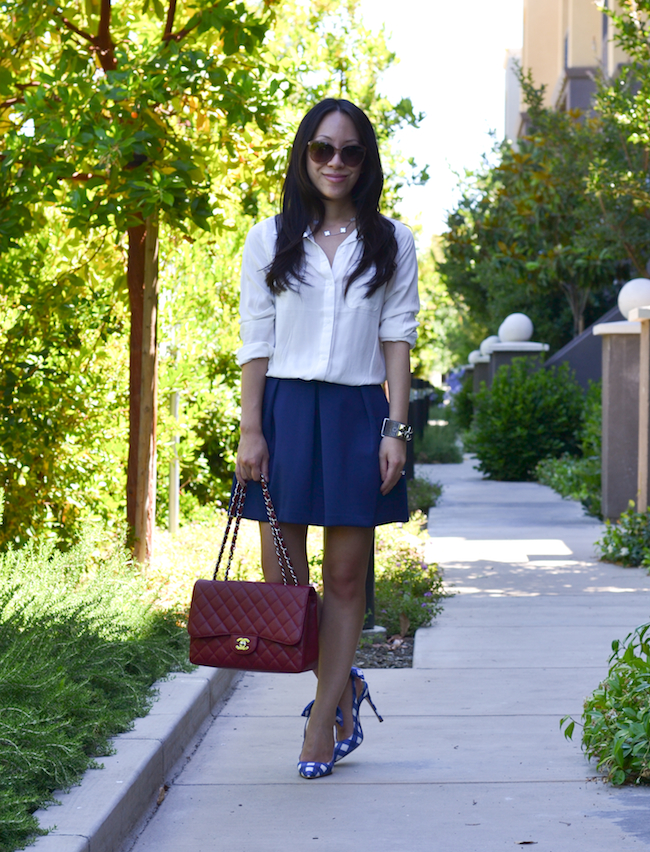 Old Navy shirt (similar here)
ASOS skirt
Chanel bag (love this one)
Miu Miu heels
VCA necklace (similar here), Hermes bracelet 
Anyway…here's what I wore yesterday, in honor of July 4th at the office. I love these gingham heels and think they'd be perfect for the 4th but I probably won't wear them for fear of a BBQ sauce related accident. I usually spray my leather/suede shoes to make them water resistant but I'm not sure about silk taffeta – does anybody have any tips?
PS: I know that Wednesdays are usually an interview post on the blog, but this week I switched it up a bit. The interview will go up on Friday this week, and it's with a fun one, so check back then! Have a wonderful holiday (if you have one today)!
Amazon.com Gift Cards – In a Gift Box – Free One-Day Shipping