I hope you all had a fantastic weekend! Ours was pretty busy, there was a wedding which was really lovely and which is kicking off a pretty busy wedding attending season for us. I used to be one of those people who complained about how I hated weddings but I was just trying to be cool – secretly I love weddings and always tear up! Anyway, I wore the below this weekend – I love this knit and chartreuse/bright yellow green tones have been surprisingly versatile for me. I find you can wear them with a lot of other colors.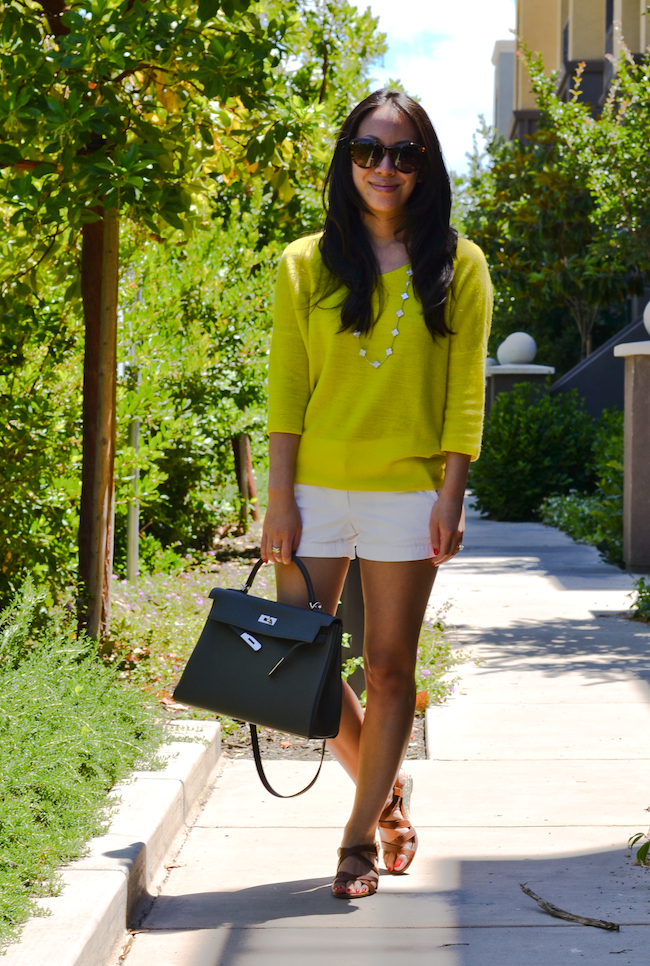 Gap sweater (very cute here, a friendlier price here)
J.Crew shorts
VCA necklace (similar and pretty here, $$$$ version here)
Hermes bag
Banana Republic sandals (similar here, here)
Early Saturday a few of us also went shopping for a gift for a former classmate whose having a birthday in the middle of a tough time. He's the kind of guy who has or can buy everything so all of us were stumped as to what to get this mega baller. In the end I came up with the winning idea – a dinner at his local fire station! A few weeks ago we got to go on a tour and dinner at a firehouse and I've been obsessed with them ever since. I really need to write a post on that.
But the question I wanted to ask is – what are some of your fool proof, unique gifts that you have given to someone – and especially those people who have "everything"? I love giving cool gifts and am always seeking out new ideas! I asked this question almost exactly a year ago (in this post, where I shared my favorite journal), and loved the answers so much that I'm asking again. So please – tell me your favorite gifts to give (and receive)!